Interstate Microscope is an authorized dealer with Accu-Scope, Seiler and other laboratory equipment manufacturers and suppliers. We can provide you with competitive pricing on microscopes, parts or accessories.
Accu-Scope Microscopes
For over 90 years ACCU-SCOPE has been providing high quality, certified microscopes with a world class reputation for excellence. Our optics are renowned for crisp, high contrast images with outstanding resolution. All of our microscopes and cameras are manufactured in strict accordance with ISO 9001 and ISO 14001 standards.

Seiler Microscopes
Seiler Instrument's Microscope Division provides high quality optics and service to the Medical and Dental industries offering Surgical Microscopes, Colposcopes, Compound Microscopes, Loupes and more.
We also sell quality used microscopes at very competitive prices.
Looking for something specific?

We have sources for new and used equipment and parts. We can find what you need.
Our Best Selling Microscopes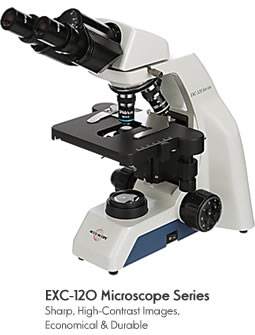 EXC-120 Microscope Series
Sharp, High-Contrast Images,
Economical & Durable
Engineered for clinical and classroom applications, ACCU-SCOPE's
new EXC-120 Series is equipped with sharp, high contrast objectives
on a rugged, die-cast aluminum frame designed for years of heavy use. Featuring ergonomic focusing controls, all brass gears and the widest field of view eyepieces in its class, the EXC-120 Series delivers
exceptional value and performance for an entry level clinical microscope.
The stage size is 150mm x 139mm
with a movement range of 75mm x 32mm
Viewing head rotates 360° for more compact storage
Integrated carry handle & Cord hanger on back for convenience
EXC-120 Microscope Series
Ease of Viewing
WF10x/18.5mm field of view. Choice of monocular, monocular with camera port, binocular or trinocular, 30° inclined, rotatable 360° single diopter adjustment 55-72mm interpupillary distance: 48-75mm binocular / 55-75mm trinocular. An optional 45° binocular viewing head is available
Optical Excellence
Choice of achromat, plan or plan phase objectives;
Standard configurations include 4x, 10x, Semi-plan 40xR* and 100xR* oil (*spring-loaded)
Illumination
Variable LED illumination; bulb life rated for 20,000 hours

EXC-120 Microscope Series: Compound Microscope for Teaching, Medical and Veterinary Applications
Sharp, High-Contrast Images, Economical & Durable
(PDF will open in a new window)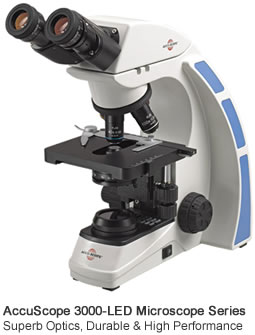 AccuScope 3000-LED Microscope Series
Superb Optics, Durable & High Performance
The ACCU-SCOPE® 3000-LED Microscope Series delivers outstanding optical performance, value and resolution to meet the exacting
standards of life science professionals and students. With a newly designed infinity plan optical system, a best in class 20mm field of view and a super-bright 3 watt LED illuminator, the 3000-LED Series provides high contrast images with outstanding resolution, precision design and enhanced illumination.
WF10x focusable eyepieces with a 20mm field of view
Infinity Plan 4x, 10x, 40xR and 100xR oil objectives
Super-bright 3 watt LED variable illumination
AccuScope 3000-LED Microscope Series
Ease of Viewing
Newly designed plan achromat focusable eyepieces, with a large 20mm field of view allow users to see more quickly.
Optical Excellence
ACCU-SCOPE's new infinity plan objectives provide users with high resolution, high contrast objectives at an affordable price. Objectives are available in plan achromat and plan phase configurations.
Illumination
A super, bright white LED light provides over 15 years of illumination saving time, energy and the cost of replacement bulbs.
AccuScope
ACCU-SCOPE Inc. is a leading manufacturer of microscopes and related accessories for life science, clinical, research, education and industrial applications.
Interstate Microscope is an authorized Accu-Scope dealer. Browse their product line and contact us for competitive prices.
ACCU-SCOPE Microscopes
(Site will open in a new window)